(a continuation of the synopsis by Magdalena Villarreal. María Eugenia Santana)
Cash and Craftwork In Amatenango del V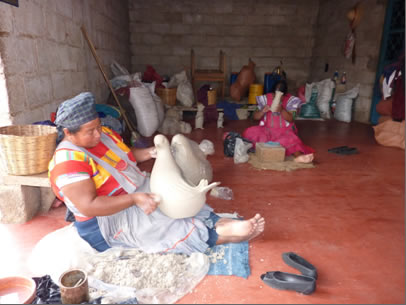 alle, Tzeltal male inhabitants work in agriculture—mainly maize cultivation— while the women mostly occupy themselves doing craftwork, from which they receive monetary income. Craftwork is very labor-intensive. Using ancient techniques that were inherited by the Mayas, women fabricate pots, doves, jaguars and other figures by hand, without the use of molds. An experienced craftswoman might be able to shape 3 to 4 doves like this a day, but behind this work are days of digging, drying and mixing clay, buying or chopping firewood, burning, polishing and painting the work. For each piece they receive about 4 or 5 USD maximum.
Each woman needs as many as 40 sacks of clay to produce pottery for a whole year. The clay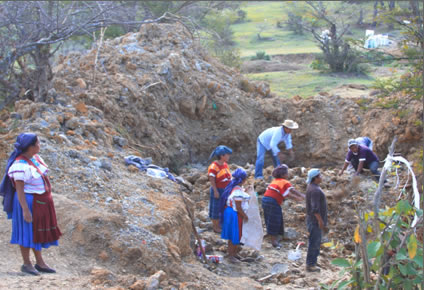 and the sand are available for free from communal land near the town, but the clay must be dug up before the rainy season, when the area gets soggy. All the family helps, but men do most of the excavating and load the truck. Upon their return with the sacks of clay, they are received with happy applauses. Women show their appreciation by cooking a special meal and offering them drinks. Making pots and other colorful items is women's work. To fire the clay pots, instead of a kiln, they place the pots on top of slats of firewood in an open-air furnace. Women are also in charge of the commercialization. This allows them some control over household expenses.
Prestige and dignity: social currencies
In each indigenous town, women use specific colors and designs for their clothes. This is how they identify themselves as different from the inhabitants of other towns. Showing off new dresses, traditional style, during the fiesta is important for women's dignity and prestige. Fiestas are an occasion to show status.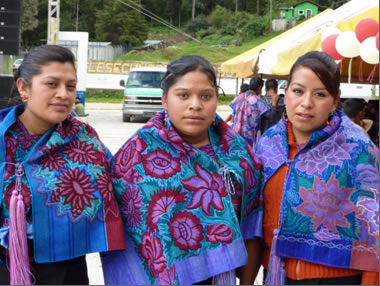 Although outsiders might not immediately notice the difference, in Zinacantán, colors and embroidery details in the textile used for skirt, blouse and cape are constantly changing. The whole outfit can cost between 100 and 300 USD. Women weave the textiles themselves, although they sometimes resort to other—poorer—women from a nearby town to do the embroidery or to fabricate the whole dress while they continue doing work for the tourist market.
In Zinacantán, Tzotzil women weave with waist looms, using ancient techniques based on knowledge passed down from mothers to daughters for hundreds of years. The sale of textiles represents an important income for their families.
In Amatenango the traditional outfit —a heavily embroidered yellow and red blouse with dark-blue skirt— has not changed a great deal. Here trends change less rapidly than in Zinacantán. However, younger women prefer to wear the neighboring villagers' garb if they can afford it, since these have more colors and frills and they like the pleated skirt. (Pictured: the town gathers for a rodeo and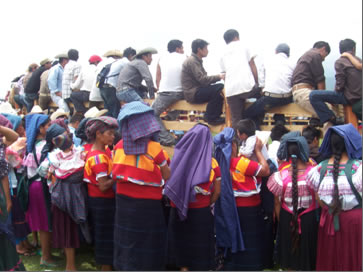 women peek between the boards for a view.) Women are thus proud of their dresses, particularly in Zinacantán, where their attire is considered the most elegant outfit in the region. Prestige and dignity are vital to economic calculations in this region.
Indigenous clothing is also very valuable for tourists, who seek the beauty and authenticity of ancient cultures. They come into the villages to buy textiles and feel the experience of indigenous cultures. But the jan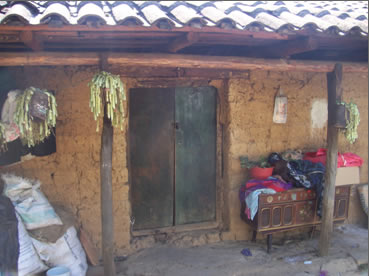 us face of such identification is poverty. Indigenous people tend to be considered all the more "authentic" if they are poor. Charity organizations and government programs provide aid that has now become an important part of household economy.
Sadly, showing poverty has also become a social currency.