Project Year
2015
Region(s)
South Asia
Country(ies)
Pakistan
Project Description
Since the early 1990s, Pakistan's economic policies have been geared towards integrating unregulated money circulation with global financial networks by privatizing banks, developing capital markets, micro-credit lending, and branchless banking. Post 9/11, under the rubric of security and counter-terrorism, the Pakistani state has further intensified its efforts to discipline vernacular financial practices, particularly the informal money transfer system known as hawala, generating tensions among local merchants and impacting laborers sending remittances to their homes. Against this backdrop, this project seeks to investigate how the state's regulations and emerging corporate finance shapes laborers' perceptions and practices of value transfer system. Narrowing the ethnographic gaze on ethnic Pakhtun laborers in Pakistan's largest wholesale market, Bolton Market, in Karachi, this research shows how laborers' engagement with new financial instruments such as branchless banking, perceived as secure and reliable, converges and diverges with the conventional modes of value transfer methods. This research is hopes to bring new insights into laborers' financial sensibility crafted at the interstices of emerging forms of digital transactions and the embedded social networks. Although grounded in Pakistan, my research speaks to a growing body of literature on branchless banking and financial security as they relate to market forces, globalization, and neoliberalism.
Researcher
Noman Baig
About the Researcher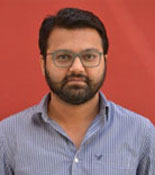 Noman Baig is an Assistant Professor in the School of Arts, Humanities and Social Sciences at Habib University, Karachi. He completed his Ph.D. in Anthropology at the University of Texas (Austin). His doctoral research investigated subject formation at the interstices of economy and religion in contemporary Pakistan with a focus on the shaping of merchants' subjectivity in Karachi's contemporary marketplace. The study also examined how the socio-political response to the "War on Terror" involve fundamental questions of financial autonomy and independence as reflected in the monetary struggles of merchants. His current research interests include self and subjectivity, economic anthropology, religion, cities, money and markets.
Read his final report, ""Branchless Banking: Integrating Pakistan's Poor in the Global Financial Circuit""