Project Year
2015
Region(s)
South Asia
Country(ies)
Nepal (Himalayan Region)
Project Description
This project addresses the material, technical and financial modalities related to social practices in the Himalayan valley of Manang, Nepal. The borderland nature of Manang and its complex involvement with international trading, tourism and development economies pulls the trajectory of this study away from more static, small-scale, ethnographic models traditionally applied to remote regions. The primary question of my research asks how these various networks, discourses and priorities overlap, diverge, or intersect through the geographic place of Manang? The devastating earthquake of April 2015 and associated relief efforts adds another layer of historical conditionality to this already complex meshwork of socio-economic systems. Using the recent earthquake as a touchstone, I explore the relationships between a so-called natural landscape and the subjective cultural systems that manifest through it. My conceptual approach is heavily influenced by Tim Ingold's phenomenological elaborations, and my methodology is based on participant observation as well as formal interviews.
Researcher
Kabir Mansingh
About the Researcher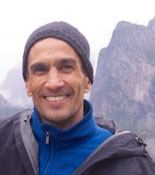 Kabir Mansingh Heimsath is an anthropologist working on urban space, landscape and contemporary art in Tibet and the general Himalayan region. He has a background in comparative religion and visual anthropology. D.Phil research (University of Oxford 2011) focussed on the urban transformation of Lhasa, Tibet. Since 1996 Kabir has lived and worked between Kathmandu, Lhasa and Beijing as a guide, independent consultant and faculty for various US university study-abroad programs. From 2013, Kabir has been teaching at Lewis and Clark College in Portland, Oregon.
Read Kabir Mansingh Heimsath's final report here
Link to the blogpost: Strange Intersections: Humans, Technology and Insects in a Himalayan Valley